Gallery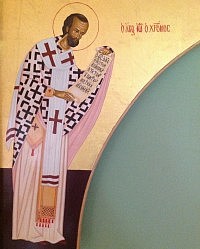 St John Chrysostom
St John Chrysostom
John was born in AD349 in Antioch to Greco-Syrian parents. His father, a high ranking military man, died soon after his birth and he was raised by his mother, Anthusa. Between the ages of 19 and 24 he was baptised and then tonsured as Reader. John's education began with Libanius who taught him rhetoric and Greek language and literature. He then went on to study theology under Diodore of Tarsus. When he was just 26 he became a hermit and took the life of an aescetic committing to memory the bible and choosing the harshest of physical mental and spiritual disciplines. Subsequently, he permanently damaged his stomach and kidneys forcing his return to Antioch.
When he was 32 he was ordained Deacon and five years later was Priested. Over the next 12 years he he grew in popularity, partly because of his preaching in the Cathedral and his writing. He emphasised charitable giving, spoke out against corruption and abuse, especially by the wealthy, established a number of hospitals in Constantinople and urged support for the needs of the poor. His sermons were direct and simple so the less educated could follow him. He wrote, "Do you wish to honour the body of Christ? Do not ignore him when he is naked. Do not pay him homage in the temple clad in silk, only then to neglect him outside where he is cold and ill-clad. He who said: "This is my body" is the same who said: "You saw me hungry and you gave me no food", and "Whatever you did to the least of my brothers you did also to me"... What good is it if the Eucharistic table is overloaded with golden chalices when your brother is dying of hunger? Start by satisfying his hunger and then with what is left you may adorn the altar as well".
When he was 48 he was made Archbishop of Constantinople. When he was told of his appointment he chose to leave Antioch in secret for fear that his departure would cause civil disorder. As Archbishop he wasn't popular with the wealthy and the clergy because he refused to host lavish social occasions when there was so much poverty. He started a programme of clergy reform which included ordering visiting preachers to return to their parishes whom they were meant to be serving without paying them while they were in the city. The Patriarch of Alexandria, Theophilus, sought to bring Constantinople under his jurisdiction and had opposed John's appointment accusing him of being a tad too keen to Origen's influence. John also made an enemy of Aelia Eudoxia, who was the wife of the Emporor Arcadius, who didn't take too kindly to the way John denounced extravagance, not least in the way women dressed.
When he was 54 his enemies held a meeting, the Synod of The Oak, to bring John down resulting in him being deposed and banished, but such was his popularity this was overturned almost immediately by Arcadius. John didn't wait long to have his revenge and denounced dedication ceremonies to a silver statue of Eudoxia near his cathedral. This time he was banished to the Armenian Caucasus where he sought help from Pope Innocent I, Verius Bishop of Milan, and Chromatius Bishop of Aquileia. Pope Innocent lent his support and protested at John's banishment sending a delegation to Constantinople but they never arrived. He was further exiled when he was 58 to Pityus in modern Georgia, but he too never arrived dying on the way at Cormanus in Pontus 14th September AD 407.
John's influence on the church is (not was) immense. He harmonised the liturgical life of the church, and it is said that he laid down one of the two chief liturgies used by the church (the other being that of St Basil) and his Paschal sermon is used every year.
In our community, the ikons of St John Chrysostom and St Basil are placed at the entrance to the Royal Doors marking the fact that they both are said to have authored two of the most important liturgies used by the Orthodox church.